DATE & VENUE
Event
Venue
4th July, 2019
(programme starts at 2pm)
Lectures

Kowloon Shangri-La

( Address: 64 Mody Road, Kowloon, Hong Kong )

5th July, 2019
Lectures and Hands-On Dry Lab
6th July, 2019
Lectures and Animal Wet Lab

CUHK Jockey Club Minimally Invasive Surgical Skills Centre

( Address: 3/F, Li Ka Shing Specialist Clinic [North Wing]
Prince of Wales Hospital, Shatin, Hong Kong )
ORGANIZER
Division of Cardiothoracic Surgery, Department of Surgery
The Chinese University of Hong Kong

---

---

SUPPORTED BY

WELCOME MESSAGE
It again gives me great pleasure to invite you to the Asia Thoracic Cancer Care Summit (ATCCS), Hong Kong in 2019. The theme of the meeting is "Innovative Personalized Therapies for Thoracic Malignancies", which is reflected in the topics with their diverse approach to pre-treatment planning and tailored approach to treatment across different specialties.
Of note, uniportal VATS, robotic digital surgery, non-invasive endobronchial lung cancer therapy, customized localization and reconstruction are some of the exciting areas that will be explored during this meeting. This year, the leading institutes in the world from US, Europe and throughout Asia on thoracic cancer management have again lent their generous support in creating this truly inspiring program. Through lectures, discussions, dry and wetlab workshops, we hope to bring you the most updated information and latest trends, share with you our research and innovative ideas, and inspire you with a glimpse of future techniques and technologies.
With the recent opening of the Hong Kong-Zhuhai-Macau Bridge, the longest sea crossing and fixed link on earth, connecting the major cities in the Pearl River Delta region, Hong Kong has become a stronger scientific and technological hub to the regions with 120 million population. We warmly welcome you to this vibrant city to celebrate with our renowned faculty recent progress and future developments, to start new and rekindle old friendships, and to be part of innovating more personalized therapies for the benefit of your patients with thoracic malignancies.
Calvin SH NG
Programme Director
Associate Professor
Division of Cardiothoracic Surgery
Department of Surgery
The Chinese University of Hong Kong
FACULTY MEMBERS
Programme Director
Keynote Speaker
International Faculty
US / Europe
Asia - China
Asia – Japan
Asia – Korea
Asia – Singapore
Asia – Taiwan
Asia – Thailand
HK / Local Faculty
PRELIMINARY PROGRAMME
(as at 25 June, 2019)
(All times given as local Hong Kong time, GMT + 8:00)

Day 1 (4th July 2019) - Afternoon Session
Kowloon Shangri-La
(Address: 64 Mody Road, Kowloon, Hong Kong)

13:30 - 14:00

Registration

14:00 - 14:15

Opening

14:00 - 14:10

Opening Speech

Calvin NG

14:10 - 14:15

Welcome Speech

Amit RAHEJA

14:15 - 15:15

New Frontiers in Thoracic Cancer Management 1
Moderators: Hiran FERNANDO, Aneez AHMED, Guibin QIAO

14:15 - 14:30

Rapid Development in Management of Small Lung Lesions

Calvin NG

14:30 - 14:45

Global Trends, Direction and Strategies: How Healthcare Providers are Meeting the Challenges

Jae YOO

14:45 - 15:00

Update on 3D Printing in Thoracic Surgery

Rainbow LAU

15:00 - 15:15

Q & A

15:15 - 15:45

Break

15:45 - 17:00

New Frontiers in Thoracic Cancer Management 2
Moderators: Mingyun MUN, Harish MUTHIAH

15:45 - 16:05

Optimum Approach to Lobectomy for Lung Cancer - ISMICS Consensus

Hiran FERNANDO

16:05 - 16:25

Personalized Approach to Small Lung Tumor Localization and Surgery

Yin Kai CHAO

16:25 - 16:45

Image-Guided Surgery & ICG in Thoracic Surgery

Hyun Koo KIM

16:45 - 17:05

Surgical Treatment of Advanced Lung Cancer

Guibin QIAO

17:05- 17:20

Q & A

18:30 - 21:00

Faculty Dinner (Shang Palace, Kowloon Shangri-La, Hong Kong)

All Faculties
REGISTRATION
PROGRAMME
REGISTRATION FEE
General Participants
Members of JACS, KATSO, PATACSI & TATCS
Local HA staff, CUHK staff, CUHK medical students & CSHK members
A.
Lectures + Dry Lab
(4th - 5th July, 2019)

HKD4,000 / USD520

HKD2,000 / USD260

Fee Waived
B.
Lectures + Dry Lab + * VATS Animal Wetlab (4th - 6th July, 2019) [for surgical trainees / surgeons only]


( Option B already full. Registration closed. )

HKD9,000 / USD1,160

HKD4,500 / USD580

Fee Waived

*Limited capacity and first-come, first-served for "VATS Animal Wetlab". Delegates will be informed of successful registration via email upon receipt of registration within 7 working days. If the VATS Animal Wetlab has been full, participants may choose to join Option A (i.e. Lectures + Dry Lab on 4th – 5th July, 2019).
Payment
Payment can be made by credit card or by bank draft / cheque payable to "The Chinese University of Hong Kong". It should be sent together with the completed registration form to the Secretariat. (Personal cheques are acceptable for Hong Kong residents only.)
Cancellation & Refund Policy
Notification of cancellation must be made in writing to the Secretariat. For cancellation request received on or before 22nd May, 2019, 50% of the registration fee will be refunded. No refund will be made for cancellation received after 22nd May, 2019.
Private Policy Statement
The personal data provided by registrants / applicants will be used by the Department of Surgery, CUHK for the purposes of processing registration to the workshops / conferences and delivering information of current and future events. The data will not be transferred to other external parties except for the co-organizers of events for communication of programmes / events purpose. Under the provision of the Personal Data (Privacy) Ordinance, registrants / applicants have the rights to access to and request the correction of the personal data. Applicants may submit written request to <ATCCS2019@surgery.cuhk.edu.hk> if necessary.
ABSTRACT SUBMISSION GUIDELINES
Submission Categories
The Organizing Committee of the ATCCS 2019 is inviting the submission of scientific abstracts and case reports. Authors are asked to submit abstracts under one of the following categories:
• Advanced NSCLC • Biology • Immuno-oncology • Interventional Diagnostics / Pulmonology • Mesothelioma • Nursing and Allied Professionals • Oligometastatic NSCLC • Pathology • Screening and Early Detection • Small Cell Lung Cancer / NET • Staging • Targeted Therapy • Thymoma / Other Thoracic Malignancies • Treatment in the Real World - Support, Survivorship, Systems Research • Treatment of Early Stage/Localized Disease • Treatment of Locoregional Disease - NSCLC
General
• There is no fee for submitting an abstract. • There is no limit to the number of abstracts you may submit. • All Abstracts accepted by the ATCCS will be printed in the programme / abstract book of ATCCS 2019 and it is mandatory to agree to this at the time of submission.
Title & Topic
• The abstract title must not exceed 125 characters in length; this includes spaces.
Authors
• There is no limit to the number of co-authors per abstract. • Please carefully review the affiliation of all your co-authors. • Financial Disclosure information needs to be stated at the end of the abstract and does not count towards words of the abstract.
Abstract Text
• Research work should be original and innovative. • Work can be presented prior to the ATCCS 2019, but MUST include new information / data. •
Abstracts must not exceed 400 words in length
(not including title and authors). • Tables may be included and each will count as 100 words. • A maximum of 2 images may be included; each will count as 100 words. • Tables, images and graphs must be saved as GIF, JPEG, JPG or PNG format at 300 dpi and 100% size. Any higher resolution is acceptable. • Abstracts must be structured with the following:
a) Background b) Methods c) Results d) Conclusion
Abstract Submission Method
• Please send your abstracts via email to
ATCCS2019@surgery.cuhk.edu.hk
.
Important Deadline
• Abstract Submission Deadline:
24 May, 2019
• Author Notification of Acceptance will be made within two weeks upon receipt of abstract.
HOTEL ACCOMMODATION
ATCCS 2019 will be held at the Kowloon Shangri - La, Hong Kong. Delegates may choose to stay at this hotel to enjoy the special Group Block accommodation rate.
Kowloon Shangri-La, Hong Kong
Address: 64 Mody Road, Tsim Sha Tsui East, Kowloon, Hong Kong
Phone: (852) 27212111
E-mail:
kowloon@shangri-la.com
Website:
https://www.shangri-la.com/hongkong/kowloonshangrila/
Reservation via the hotel website
Alternatively, guests can make bookings directly on the Hotel website using the Group Code:
1) Go to the Shangri-La website.
2) Select the appropriate hotel and enter all the necessary stay requirements such as like check-in date, check-out date, number of rooms, adults and children.
3) Under the "Special Rate" area, select "Group Code" and enter the Group Code – JOH030719.
4) Click the "Check Availability" button to continue.
5) If all the search criteria are correct and rooms are still available for the group, the group rate will be returned in the availability search result. Simply follow the on-screen instructions to complete the online booking.
Remarks
Rooms at Group Block accommodation rate are subject to availability. Guests would have to settle the accommodation cost etc. with the hotel directly. The organizer bears no responsibility on the accommodation related arrangement or any cost involved.
GENERAL INFORMATION
Official Language
The official language of the Symposium is English.


CME / CNE Accreditation
| | | | |
| --- | --- | --- | --- |
| | 4 July 2019 | 5 July 2019 | 6 July 2019 |
| Physicians | 2.5 | 8 | 1.5 |
| Radiologists | 2.5 | 8 | 2 |
| Surgeons | 2.5 | 6 | 2 |
Insurance
The Organizer does not shoulder any responsibility for individual's medical, travel or personal insurance. Delegates are strongly advised to make or review their own policies.
Venue
Kowloon Shangri-La
64 Mody Road, Kowloon, Hong Kong

CUHK Jockey Club Minimally Invasive Surgical Skills Centre
3/F, Li Ka Shing Specialist Clinic (North Wing)
Prince of Wales Hospital, Shatin, Hong Kong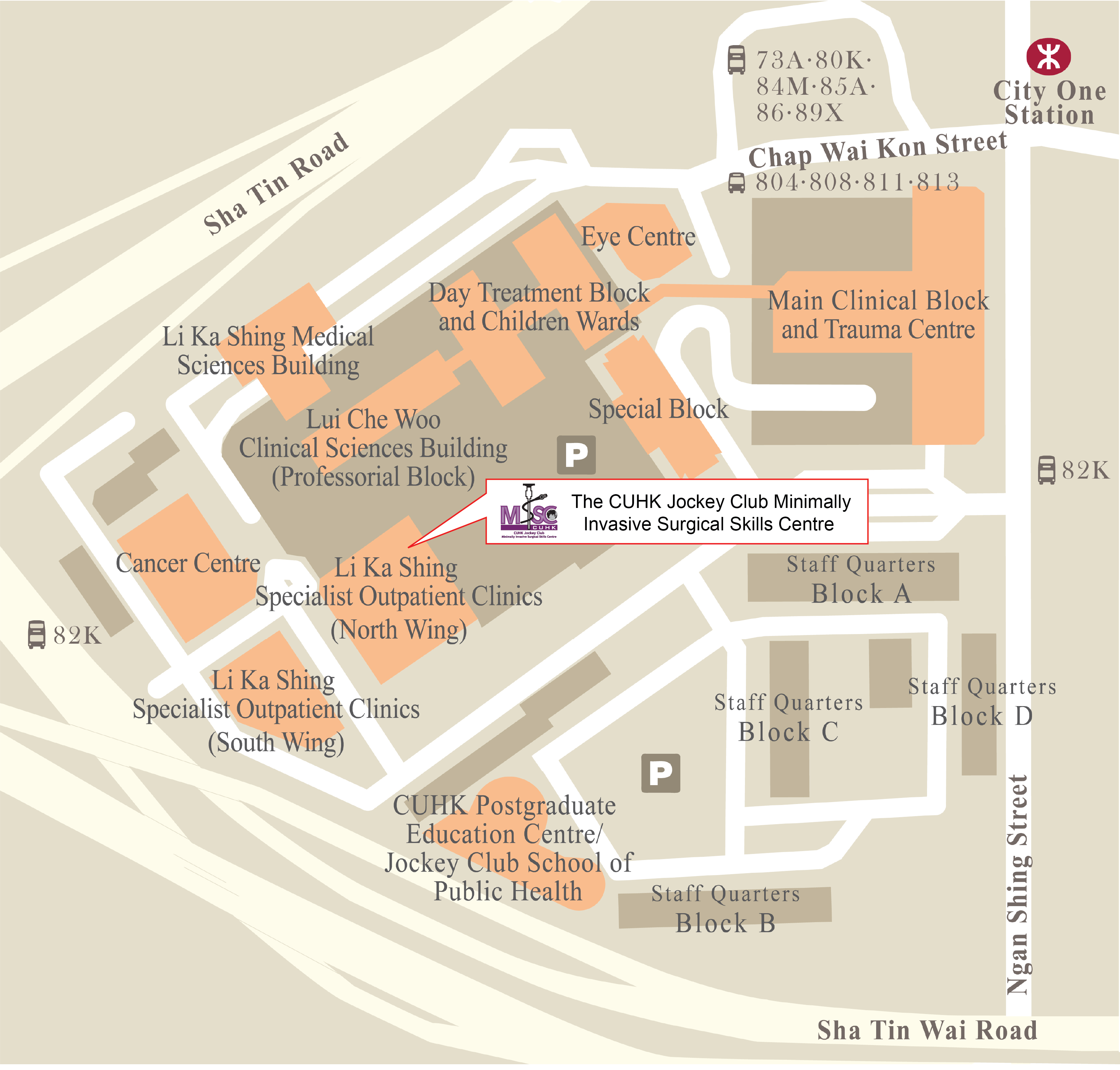 Secretariat
Division of Cardiothoracic Surgery, Department of Surgery, The Chinese University of Hong Kong
4/F, Lui Che Woo Clinical Sciences Building, Prince of Wales Hospital, Shatin, N.T., Hong Kong
Tel: (852) 3505 2629 / 3505 3586 Fax: (852) 2637 7974
Email: ATCCS2019@surgery.cuhk.edu.hk
Website: www.surgery.cuhk.edu.hk/ATCS2019
ABOUT HONG KONG
The Weather
Hong Kong has sub-tropical climate. The weather in July is generally hot and humid with much sunshine. Temperature ranges from 27°C to 32°C. Relative humidity is around 81%. Detailed weather information is obtainable from the Hong Kong Observatory. Website: http://www.weather.gov.hk/contente.htm
Passport & Visa Requirement
Visitors to Hong Kong should hold a passport with at least six months' validity. Nationals of about 160 countries and territories may visit Hong Kong visa-free for a period ranging from 7 days to 180 days. The Organizer is NOT responsible for individual's visa arrangement. Participants should check with the Chinese Embassy or Consulate at respective home town for the visa information. One may also check to learn whether a visa is needed to enter Hong Kong from the webpage of the Immigration Department of Hong Kong. Website: http://www.immd.gov.hk/eng/services/index.html
Airport Departure Tax
Adult : HK$120 Children under 12 years of age: Free
Language
Chinese and English are the official languages with Cantonese being the de facto official spoken language in Hong Kong. Most people in the service industry speak Cantonese, English and Mandarin.
Currency
The local currency unit is Hong Kong dollar (HK$) which is currently linked to US dollar (US$) at an exchange rate of HK$7.8=US$1. Most foreign currencies are easily exchanged at banks, hotels and money changers. Credit cards are widely accepted at major hotels, large restaurants, department stores and shops. Most banks in Hong Kong open from 9:00am to 4:30pm on Mondays to Fridays, and some from 9:00am to 12:30pm on Saturdays.
Local Transportation
Hong Kong is a geographically compact city. It is highly mobile with efficient public transport system. Mass Transit Railway, bus, mini bus, tram, ferry, etc. are the major transportation means. "Red" taxis serve most of the territory-wide area except for Tung Chung Road and the south side of Lantau Island. "Green" taxis are fundamentally confined to the suburban areas in the New Territories. "Blue" taxis operate only on Lantau Island. All taxis can go to and from the Hong Kong International Airport. Road signs in Hong Kong are bilingual in both English and Chinese.
Hong Kong Attractions
Visitors may learn more about travelling in Hong Kong from the Hong Kong Tourism Board. Website: http://www.discoverhongkong.com/eng/index.html