REGISTRATION & PAYMENT METHODS
Registration Procedure
You can register by one of the following methods:
1

Online Registration

2

By Mail / Fax
Download, complete all sections of the registration form and mail/fax to the Secretariat with the appropriate fee.
Download the registration form:
Registration Fee
Category
Overseas
Local
Delegates
USD65
HKD500
Trainees *
USD40
HKD300
Nurses
USD40
HKD300
Medical Student *
Free
* Proof required
Payment Method
Payment can be made by the following:

| | |
| --- | --- |
| 1. | Bank draft made payable to "The Chinese University of Hong Kong". Hong Kong residents are welcome to pay by personal cheques. |
| | OR |
| 2. | Credit Card Payment (Visa / Master) – available for both mail-in registration and online registration. |
Cancellation & Refund Policy
All cancellations must be made in writing to the Secretariat. The following refund policy will be observed:
| | |
| --- | --- |
| Postmarked, faxed or email on or before 18 November 2018 | 50% of the amount paid |
| Postmarked, faxed or email after 18 November 2018 | No Refund |
Registration fee includes registered scientific event, program materials, meal function and promotional gifts, distributed on a first-come, first-served basis.
GENERAL INFORMATION
Date
29-30 November 2018 (Thursday-Friday)

Venue
Shaw Auditorium, Postgraduate Education Centre (PEC)
Prince of Wales Hospital, Shatin, Hong Kong

CME/CNE Accreditation
Accreditation is given by the following Colleges on condition that the College fellows will sign on the Record of Attendance at the symposium venue to document their attendance.

| | | |
| --- | --- | --- |
| College/Programme (CME/CNE) | 29 Nov | 30 Nov |
| The Hong Kong College of Family Physicians | 5 | 5 |
| The HK College of Otorhinolaryngologists | -- | -- |
| Hong Kong College of Radiologists | 7.5 | 7.5 |
| The College of Surgeons of Hong Kong | 6 | 6 |
| The Nethersole School of Nursing (CNE) | 5.5 | 5.5 |
Official Language
English is the official language of the Symposium. There will be no simultaneous translation.

Invitation Letters
Invitation letters for all international participants will be issued upon request.

Certificate of Attendance
A Certificate of Attendance will be issued to registered participants together with the program materials at the Registration Counter during the event.

Insurance
Participants are responsible for their individual travel, medical and personal insurance policy.

** The Organizer reserves the right to amend the program and information here.
ABOUT HONG KONG
The Weather
The weather in November is normally clear and sunny with temperature ranging from 21oC to 25oC and humidity of 76 percent. Generally, loose-fitting cotton clothing and short sleeves and light jackets are appropriate during this time. Weather information is obtainable from the Hong Kong Observatory.


Passport & Visa Requirement
Visitors to Hong Kong should hold a passport with at least six months' validity. Nationals of most countries are not required to obtain visas for periods varying from seven days to 180 days. Please note that a visa is required for some nationalities. The Organizer is NOT responsible for your individual visa arrangement. Participants should check with the Chinese embassy or consulate on specific visa information. Further information on Visa requirements is available from www.immd.gov.hk/ehtml/hkvisas_4.htm.


China Visa
Participants planning to travel to mainland China should make their own visa arrangement. China visa can be processed in Hong Kong and normally takes three working days and one passport-sized photo. Visas can be obtained through the Visa Office of People's Republic of China, Office of the Commissioner of the Ministry of Foreign Affairs of the People's Republic of China in Hong Kong, China Travel Service (HK) Ltd, or China International Travel Service HK Ltd.


Getting Around
Hong Kong is geographically compact and the public transport system (bus, ferry, or train) is efficient, relatively inexpensive and user friendly. Road signs in Hong Kong are bilingual in both English and Chinese.


Further information on Hong Kong is available from the Hong Kong Tourism Board.


ORGANIZER
Department of Surgery, The Chinese University of Hong Kong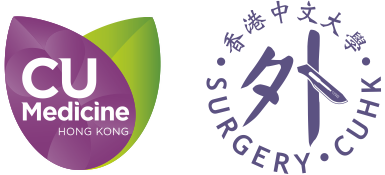 SECRETARIAT
Department of Surgery, The Chinese University of Hong Kong
4/F Lui Che Woo Clinical Sciences Building, Prince of Wales Hospital, Shatin, Hong Kong
Tel: (852) 3505 3951/ 3505 1496/ 3505 3557
Fax: (852) 2635 3487
Email: cuhkss@surgery.cuhk.edu.hk
Website: http://www.surgery.cuhk.edu.hk/cuhkss2018