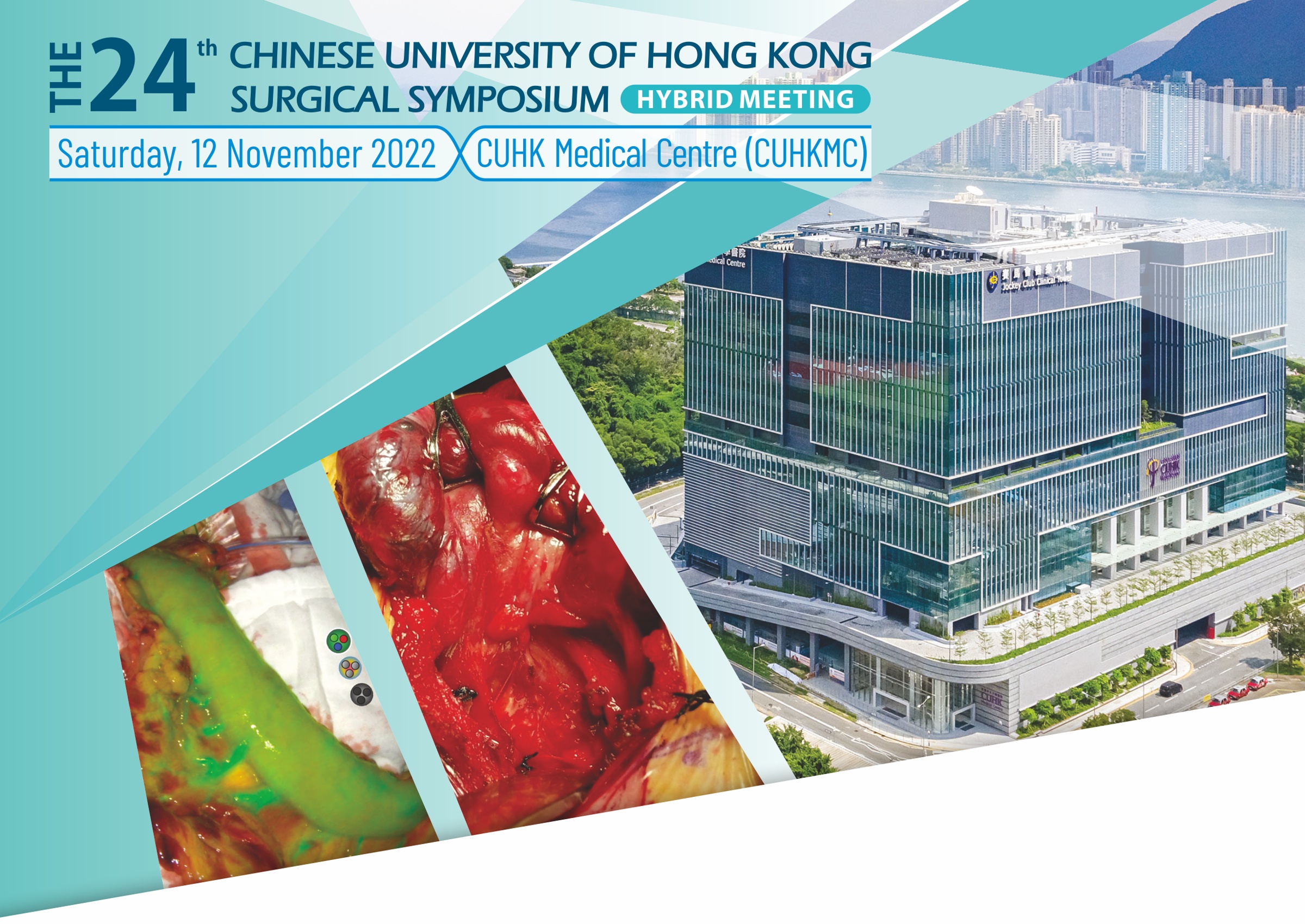 ---
---
P R O G R A M M E
(as at 18 October 2022)
* The programme is in Hong Kong Time (HKT: GMT+8)
Saturday, 12th November 2022Main Session - Auditorium
0930 - 1000
Opening
James Lau, Anthony Teoh
Session 1
Hepatobiliary and Pancreatic Surgery
Moderators: Kit-Fai Lee, Tak-Wing Lai
1000 - 1020
The Impact of Hepatic Invasion on Surgical Outcome of T3 Gallbladder Cancer
Bin Yi
1020 - 1040
Can Indocyanine Green Bile Duct Mapping Replace Intraoperative Cholangiogram in Laparoscopic Cholecystectomy? The Current Evidences
Boon-Koon Yoong
1040 - 1100
Is Hepatectomy Resection Justified for Non-Colorectal Non-Neuroendocrine Liver Metastasis? A Surgeon's Perspective
Kelvin Ng
1100 - 1120
Learning Curve on Minimally Invasive Hepatectomy for Liver Tumours
Kai-Chi Cheng
1120 - 1130
Discussion
1130 - 1140
Break
Session 2
Upper Gastrointestinal and Metabolic Surgery
Moderators: Hak-Lim Yiu, Angus Chan, Anthony Teoh
1140 - 1200
Technical Aspects of Minimally Invasive Proximal Gastrectomy
Koichi Suda
1200 - 1220
Laparoscopic Management of Gastric Volvulus
Ian Wong
1220 - 1240
Laparoscopic Endoscopic Collaborative Surgery for GIST at Awkward Locations
Dennis Lam
1240 - 1300
Initial Experience of Upper Gastrointestinal Surgery using the Versius Modular Robotic System
Anthony Teoh
1300 - 1310
Discussion
1310 - 1400
Lunch
Session 3
Endocrine Surgery
Moderators: Tom Chow, Sheung-Kit Hui
1400 - 1420
Radiofrequency Ablation for Benign and Malignant Thyroid Conditions
Jung Hwan Baek
1420 - 1440
Intraoperative Neuromonitoring of RLN and EBSLN in TOETVA Surgery
Young Jun Chai
1440 - 1500
Surgical Management of Primary Hyperparathyroidism – Approach to Normocalcemic Variant
Tom Chow
1500 - 1520
Treatment Algorithms of Gastroenteropancreatic Neuroendocrine Tumors
Shirley Liu
1520 - 1530
Discussion
1530 - 1540
Break
Session 4
Lower Gastrointestinal Surgery
Moderators: Simon Ng, Tony Mak
1540 - 1600
HiPEC for Colorectal Cancer with Peritoneal Disease
Melissa Teo
1600 - 1620
Lateral Pelvic Lymph Node Dissection in Rectal Cancer - The Controversies
Man-Fung Ho
1620 - 1640
Intracorporeal or Extracorporeal Anastomosis in Minimally Invasive Right Hemicolectomy
Marcos Gómez Ruiz
1640 - 1700
Minimally Invasive Surgery for FIA
Kaori Futaba
1700 - 1710
Discussion
1710 - 1720
Closing Remarks
James Lau, Anthony Teoh
Saturday, 12th November 2022
Parallel Nurse Session
Nurse Session
Nurse Lecture
Moderators: See-To Chui, Tze-Wing Wong
1000 - 1020
Nursing Roles in Caring Patient with Traumatic Burn Wound
Tze-Wing Wong
1020 - 1040
Improving Surgical Outcomes in Neurosurgery: Experience of Nurse-Led Intra-Operative Neurophysiological Monitoring Service in NTEC
Like Wong
1040 - 1100
Complicated Wound Management in Surgery: Team Work, Skill & Foresight
Frances Shit, Suk-Yee Tong
1100 - 1120
Break
1120 - 1140
Clinical Nursing Management of Low Anterior Resection Syndrome
Choi-Ping Lam
1140 - 1200
Role of Nursing in Modern Prostate Cancer Care
Sze-Wan Kwok
1200 - 1220
Discussion
1310 - 1400
Lunch
Saturday, 12th November 2022
Parallel Workshop
AM Session
Advanced Endoscopic Intervention 101 Workshop
Moderators:
1000 - 1300
(1A) OGD + ESD of gastric lesion
(1B) OGD + ESD of gastric lesion
(2) OGD + closure of full thickness defect with clip loop technique
(3) OGD + closure of full thickness defect with x-tack
(4) EUS + biopsy
(5) EUS + walled-off-pancreatic-necrosis (WON) drainage
Sok-Fei Hon
Simon Chu
Xiaobei Luo
Stephen Ng
Hon-Ting Lok
Janice Lee
1310 - 1400
Lunch
PM Session
Advanced Endoscopic Intervention 101 Workshop
Moderators:
1400 - 1700
(1A) OGD + ESD of gastric lesion
(1B) OGD + ESD of gastric lesion
(2) OGD + closure of full thickness defect with clip loop technique
(3) OGD + closure of full thickness defect with x-tack
(4) EUS + biopsy
(5) EUS + walled-off-pancreatic-necrosis (WON) drainage
Hon-Chi Yip
Dennis Lam
Shannon Chan
Ian Wong
Angus Chu
Anthony Fong
---
REGISTRATION
Registration Type
Physical** -
(CME/CNE accreditation will be awarded)
Virtual -
Main session only
(not applicable to Nurse Session and Workshop)
(CME/CNE accreditation is not applicable)
(not applicable to Nurse Session and Workshop)
Registration Fee

TYPE
Physical attendance
Virtual attendance
CATEGORY
Early Bird
on or before 28 Oct 2022
Standard Fee
29 Oct - 12 Nov 2022
Standard Fee
Doctor
HKD100
HKD200
Free
NTEC Doctor
Free
Free
CUHKMC Doctor
Free
Free
Trainee
Free
Free
Nurse
Free
Free
Medical Student
Free
Free
Cancellation of registration
Registration, once confirmed, cannot be cancelled. Please understand that no refund on registration fee will be arranged.


** Important Notes:
All participants who will physically attend the symposium are required to scan the LeaveHomeSafe upon entering the symposium venue.
Vaccine Pass is required. All participants, except those who have obtained an exemption certificate, are required to have received at least three doses of COVID-19 vaccines.
All participants must conduct a same-day Rapid Antigen Test (RAT) and obtain a negative result to enter the symposium venue as a safety measure. The RAT result needs to be uploaded for verification and the link for upload will be available on 12 November 2022 via the event website.
** All safety measures and requirements for venue entry will be updated as stipulated by the Hong Kong Government. You are kindly reminded to read the latest news from this website.
---
GENERAL INFORMATION
Date
Saturday, 12th November 2022

Venue
CUHK Medical Centre (CUHKMC)
10/F Education & Training Centre
9 Chak Cheung Street, Shatin, New Territories
Hong Kong

CME/CNE Accreditation
Accreditation is given by the following Colleges on condition that the College fellows will sign on the Record of Attendance at the symposium venue to document their attendance.

| | |
| --- | --- |
| College | CME / CNE Points |
| The Hong Kong College of Family Physicians | Pending |
| The Hong Kong College of Otorhinolaryngologists | 3 |
| Hong Kong College of Physicians | Pending |
| Hong Kong College of Radiologists | 6 |
| The College of Surgeons of Hong Kong | 6 |
| Continuing Nursing Education (CNE) | 6 |
Official Language
English is the official language of the Symposium. There will be no simultaneous translation.

** The Organizer reserves the right to amend the program and information here.
---
PHOTO GALLERY
---
ORGANISER
Department of Surgery, The Chinese University of Hong Kong

SECRETARIAT
Department of Surgery, The Chinese University of Hong Kong
4/F Lui Che Woo Clinical Sciences Building, Prince of Wales Hospital, Shatin, Hong Kong
Tel: (852) 3505 3557
Fax: (852) 2635 3487
Email: cuhkss@surgery.cuhk.edu.hk
Website: https://www.surgery.cuhk.edu.hk/cuhkss2022