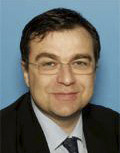 Gaetano Rocco, MD, FRCSEd, FETCS. FCCP

Dr Rocco obtained his Proficiency in English Certificate from the University of Michigan, Ann Arbor in 1978.
He graduated from the University of Milan Medical School magna cum laude in 1985. Dr Rocco qualified in Italy as Board Certified General Surgeon in 1990 and as Board Certified Thoracic Surgeon in 1995.Very early in his surgical training attended an Internship in Surgical Pathology – at Loyola Medical School – Stritch School of Medicine in 1984.

Between 1988 and 1999, Dr Rocco was Staff Surgeon in the Division of Thoracic Surgery of the "Morelli" Regional Hospital and Sanatorium, Sondalo, Northern Italy.

After obtaining the ECFMG-USMLE certification in 1995 ( indefinite validity), he was Visiting Resident (1995) and then Clinical Fellow in Advanced General Thoracic Surgery at the Mayo Clinic, Mayo Foundation (1996-7).

Dr Rocco served as Senior Clinical Lecturer, Consultant Thoracic Surgeon in the Division of Cardiothoracic Surgery, Department of Surgical Sciences, University of Sheffield, United Kingdom (2000-2004).

Since November 2004, Dr Rocco is Division Chief of Thoracic Surgery, and ,Department Head, Thoracic Surgery and Oncology, at the National Cancer Institute, Pascale Foundation, Naples, Italy.

Dr Rocco has served as Councillor, Treasurer, President Elect and President, European Society of Thoracic Surgeons between 2003 and 2008. In addition, he was assigned the positions of Director of Education and Director of External Relations, European Society of Thoracic Surgeons ( 2008-2010). Dr Rocco has also served as Chair, New Technology Committee, European Association for Cardiothoracic Surgery and he has been a Member of the Workforce on General Thoracic Surgery, Society of Thoracic Surgeons, being the Chair of the Taskforce on credentialing for CT screening programs.

In 2004, Mr Rocco has been bestowed upon the Honorary Fellowship of the Royal College of Surgeons of Edinburgh for professional distinction.

In 2006, Dr Rocco has been awarded the Silver Medal of the Italian Ministry of Health for professional merits.

Visiting Professorships: University Hospital, Zakopane; Acibadem University, Istanbul; National Cancer Institute, Tokyo; University of Virginia in Charlottesville; Memorial Sloan Kettering Cancer Center, New York,; Weill-Cornell University, New York; Respiratory Hospital, Shanghai; Massachusetts General Hospital, Boston; University Hospital, Zurich; Chinese University of Hong Kong – where Prof Rocco delivered the GB Ong's Lecture; Mayo Clinic, Rochester- where he has been invited to give the Clagett's Lecture (2015)

In addition, Dr Rocco has been invited to deliver the Distinguished Pearson 's Lecture at the Annual Meeting of the Canadian Association for Thoracic Surgery in Quebec City (September 2015)

He sits on several editorial Boards, including the Annals of Thoracic Surgery (ending 2014), and also serves as Deputy Editor-in-Chief for the Journal of Thoracic Diseases. He was the Guest Editor for five issues of the Thoracic Surgery Clinics and has authored several chapters in the most prestigious thoracic surgery textbooks (Shields', Pearson's and Sabinston's).

Moreover, Dr Rocco has been recently nominated co-Editor of the Shields' Textbook of General Thoracic
Surgery.

In 2014, Dr Rocco has been appointed as Associated Editor of the European Journal of Cardiothoracic
Surgery (IF:3.08)

Dr Rocco's main research interests include epithelial to mesenchymal transition and cancer stem cells in non small cell lung cancer.