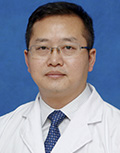 Professor Lunxu Liu is the Director of Department of Thoracic Surgery, West China Hospital of Sichuan University. He received his MD degree and PhD degree at West China University of Medical Sciences. He is considered a pioneer in performing complete video-assisted thoracic surgery (VATS) for lung cancer in Mainland China. He raised the concept of "single-direction VATS lobectomy", which made VATS lobectomy more concise and easier to learn and was widely used by most chinese thoracic surgeons. He developed the novel method of "suction-compressing angiorrhaphy technique (SCAT)" for troubleshooting vascular injury during anatomic thoracoscopic pulmonary resection without conversion to thoracotomy. He also completed the first series of thoracoscopic bronchovascular double-sleeve lobectomy in the world. As project leader, professor Liu received the first prize of Sichuan Province Science and Technology Progress Award and Chinese Medical Science and Technology Award, respectively, for his great efforts and achievements in minimally invasive thoracic surgery.

Professor Liu is currently a Fellow of The Royal College of Surgeons (RCS). He serves as Vice-chair of Chinese Association of Thoracic Surgeon (CATS). He is also Chair of the Experts Committee on Minimally Invasive Surgery of CATS. Meanwhile, he is Deputy Leader of both Thoracoscopic Surgery Study Group and Lung Cancer Study Group of the Chinese Society for Thoracic and Cardiovascular Surgery. Besides, he has also taken up several leadership roles in multiple academic societies.

Professor Liu's major clinical and research interests include minimally invasive thoracic surgery and lung cancer. He has been in charge of more than 10 projects funded by Natural Science Foundation of China (NSFC) and other foundations. He has authored or co-authored more than 100 peer-reviewed articles and textbook chapters. He also sits on the Editorial Board of Thoracic Cancer, Journal of Thoracic Disease, and several other academic journals. He has served as a chairman and member of the program committee for multiple international or national meetings, and he has delivered more than 30 live operation demonstrations at these meetings.