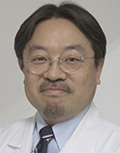 Current Appointment:
Associate professor of Surgery, Department of Cardiothoracic Surgery, Fujita Health University, Toyoake, Japan

Past Appointment:
2001-2008
Assistant professor of Surgery, Division of General Thoracic Surgery, Fujita Health University
1994-1998
House Staff of Cardiothoracic Surgery Dept., Fujita Health University Hospital
1992-1994
Resident of Fujita Health University Hospital

Research experience:
1998-2001
Research fellow of Washington University School of Medicine Division of Cardiothoracic Surgery, St. Louis, MO USA

Professional memberships :
International Society for Minimally Invasive Cardiothoracic Surgery
Japan Surgical Society
Japanese Lung Cancer Society
Japanese Association for Chest Surgery
Japanese Association for Thoracic Surgery

Bio:
Dr. Takashi Suda, M.D. is a specialist in thoracic surgery. He is a pioneer of robotic surgery for lung cancer in Japan. Currently, Dr. Suda is an Associate Professor in the Department of General Thoracic Surgery at Fujita Health University Hospital located in Toyoake, Japan.