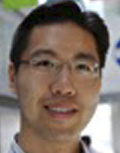 Education and Training:

2011 –
present Doctorate of Philosophy, Institute for Biomaterials and Biomedical Engineering, University of Toronto, Toronto, Ontario, Canada
2007 – 2009
Master of Business Administration, Rotman School of Management, University of Toronto, Toronto, Ontario, Canada
2000 – 2002
Master of Applied Science, Institute for Aerospace Studies, University of Toronto, Toronto, Ontario, Canada

1997 – 2000
Bachelor of Applied Science, Division of Engineering Science, Faculty of Engineering, University of Toronto, Toronto, Ontario, Canada

Honours and Awards:

2013
IEEE IROS Top 5 Application Paper
2012
Hamlyn Symposium for Medical Robotics Travel Award
2012
University of Toronto Conference Award
2011
University of Toronto IBBME PhD Fellowship
2009
Deans List – Full-time MBA program
2005
Registered Professional Engineer of Ontario
2005
Canada Space Agency Certificate of Distinction
2003
NASA Spaceflight Team Awareness Award
2001
Ontario Centre of Excellence CRESTech Best Student Project Award 2001

Experience:

2009 Jan - present
Project Director, Centre for Image Guided Innovation and
Therapeutic Intervention, Hospital for Sick Children
2008 Nov - 2009 Sept
Co-founder and Director of Business Development, ViewsIQ Inc.
2002 Aug - 2008 Dec
Controls & Analysis Engineer, MDA Corp., Brampton, Canada
2002 May - 2002 Aug
Controls Engineer, Honeywell Ltd, Toronto, Canada
2001 May - 2002 Apr
Systems Engineer, Intelsys Ltd, Toronto, Canada
2000 May - 2000 Dec
Dynamics Engineer, Quanser Inc, Markham, Canada
1999 May - 1999 Aug

Student Project Engineer, Ontario Hydro Services, Ontario
1998 May - 1998 Aug
Research Assistant, Institute for Aerospace Studies, Toronto

Publications (38):

Journal (6), Conferences (24), Invited talks (3), Patents (5)

Academic Supervisory Experience (28):

3 PhD, 4 Master, 21 Undergraduate

Research interests:

My research interests are in the areas of image-guided robotic tools and MR-guided focused ultrasound for neurological and vascular applications. Projects include development of MR-guided biopsy robotics, minimally invasive single port multi-manipulator surgical robotics for general/thoriac and neurosurgery. I am also an ad-hoc reviewer for the IEEE Intelligent Robots and Systems and International Conference on Robotics and Automation.